Welcome to Board Game Arena's online development platform!
Getting started
4 slideshare presentations to get ready to use BGA Studio in 30 minutes:


Reference Documentation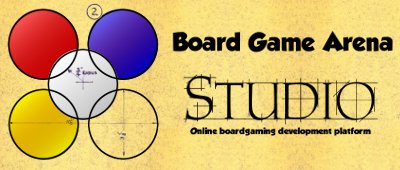 Note: Please DO NOT translate Studio Documentation, so that there can be one place where you can find the latest information available.
Discover BGA Studio in 5 presentations
Why, how, what... to start discovering BGA Studio, we prepared 5 "powerpoint" presentations for you:
Great, I'm in! ... How should I start?
If you didn't already, check the presentations at the top of this page to get the basics.
Then, you should checkout the First steps with BGA Studio to make sure that runs fine.
After that, we strongly advise you to take one of these game creation tutorials:
Then start editing files and see what happens! ;)
Once you done with tutorials, you can start a real game (or join existing project)
If you have any questions, please check out the Studio FAQ first, then if you didn't find the answer you were looking for, please post your question on the development forum.
BGA Studio documentation
BGA Studio Framework reference
This part of the documentation focuses on the development framework itself: functions and methods available to build your game.
Game logic (Server side)
Game interface (Client side)
Other components
BGA Studio game components reference
Game components are useful tools you can use in your game adaptations.
Undocumented component (if somebody knows please help with docs)
BGA Studio user guide
This part of the documentation is a user guide for the BGA Studio online development environment.
Join the BGA Studio developers team
To start developing on BGA Studio and get access to development environment, you need to create an account below.

Personal infos provided in this form is NOT shown to anyone but BGA Studio admin, and is NOT used for any other purpose that BGA Studio organization.
Hello!

I'm on day 2 of creating a new card game in the public domain (Klaverjas, or Klaverjassen) to BGA and must admit, I'm quite excited about it. I'm a very senior, experienced programmer although typically with C++, C#, some Python, etc.

Anyway, my question isn't a programming one, that's been relatively easy so far other than a few gotchas with not reloading gameoptions, etc.

In Klaverjas, the person to the left of the dealer (in my first variant), let's say, has to choose a trump suit. It's completely arbitrary, and doesn't have to be a card they have in hand. I have played literally thousands of games on BGA, but very few (if any?) card games with a normal deck.

How would you suggest I present this option to the player? Are there games that do this that I could look at?

The option I'm looking at presently would be to create a separate deck with just the 2 of each suit (which aren't used in Klaverjas at all, by the way), show them to the player and have them select one.

There are a lot of steps to that though, and while not overly complicated, seems like it's worth asking if there's a simpler way to just present a player with a static choice that looks good, and is consistent across the site. I'm mostly just not familiar with any games that do that although I'm sure there's several.

--Andy
Trying to work my way through tutorial. Downloaded the hearts tutorial files. Renamed to heartsAmadanNaBriona. Uploaded to ftp server, then went to start a game, chose Express Start:
Unexpected error: Propagating error from GS 1 (method: createGame): Fatal error during heartsamadannabriona setup: Game module not found: module.heartsamadannabriona.heartsamadannabriona
I tried creating a modules folder (though there isn't one in the hearts tutorial), but not sure what else I missed.
Thanks.
I can't find the registration email and I don't remember either my SFTP information. How can I recover? My username is Athelin0