BGA Studio: Online Board Game development platform
Getting started
4 slideshare presentations to get ready to use BGA Studio in 30 minutes:


Reference Documentation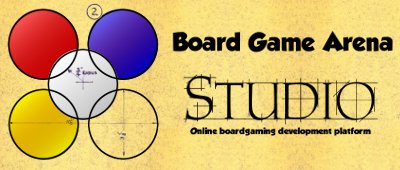 Note: Please DO NOT translate Studio Documentation, so that there can be one place where you can find the latest information available.
Discover BGA Studio in 5 presentations
Why, how, what... to start discovering BGA Studio, we prepared 5 "powerpoint" presentations for you:
Great, I'm in! ... How should I start?
If you didn't already, check the presentations at the top of this page to get the basics.
Then, you should checkout the First steps with BGA Studio to make sure that runs fine.
After that, we strongly advise you to take one of these game creation tutorials:
Then start editing files and see what happens! ;)
If you have any questions, please check out the Studio FAQ first, then if you didn't find the answer you were looking for, please post your question on the development forum.
BGA Studio documentation
BGA Studio Framework reference
This part of the documentation focuses on the development framework itself: functions and methods available to build your game.
Game logic (Server side)
Game interface (Client side)
Other components
BGA Studio game components reference
Game components are useful tools you can use in your game adaptations.
BGA Studio user guide
This part of the documentation is a user guide for the BGA Studio online development environment.
Join BGA Studio developer team
To start developing on BGA Studio and get access to development environment, you need to create an account below.

Personal infos provided in this form is NOT shown to anyone but BGA Studio admin, and is NOT used for any other purpose that BGA Studio organization.
Hi,

may I propose for development a game that I invented, providing rules and javascript implementation?

Thanks
Hi,

I'd like some explanation about the license page before to send some useless request to publishers.

What are the meaning of each columns please ?
I am confused about "Is working with BGA?", "Available" and "Non available"

If a publisher is marked as not working with BGA, I guess that ALL the games of this publisher are not licensed to be developped here, right ?
Then why some games of those publishers are explicitly in the colunm "Non available" please ? (e.g. Mr Jack, Agricola)

If a publisher is marked as working with BGA, does that mean that ALL the games of this publisher are automatically licensed to be developped except those in the "non available" column?
Does that only mean that the "door is open" and a request to get the license for a game will be probably granted if asked but it HAS to be asked and obtained before to be developped here ?

Sorry for all the questions, I am new to this and I would like to avoid mistakes.

Speciffically, I would like to develop some games:
- Vinci (Descartes ?? / Asmodée )
- Santiago ( Amigo )
- Kemet ( Matagot )
- Khronos ( Matagot )

Do I need to ask for the license for these games or did you already ask them ?
Do you have already the game art for those games ?

Thanks for your replies,

Nolatall
Can someone explain how zombie mode should work? When a player has their turn skipped (out of time), what's supposed to happen at that moment? If I understand the docs correctly, my
zombieTurn
function should get called immediately, where I'll do the steps to end the zombie's turn and continue the game. This isn't working for me in studio. Despite clicking skip turn and seeing a message that the player is skipped, he stays the active player and the game is stuck. It appears my
zombieTurn
is not called. What's wrong?
My zombie function is quite simple:
Code: Select all
public function zombieTurn($state, $active_player)
{
$this->gamestate->nextState('zombiePass');
}

My states include these:
Code: Select all
3 => array(
"name" => "playerStart",
"description" => clienttranslate('${actplayer} must take an action.'),
"descriptionmyturn" => clienttranslate('${you} must take an action.'),
"type" => "activeplayer",
"action" => "stPlayerStart",
"possibleactions" => array( "act" ),
"transitions" => array( "ask" => 10, "execute" => 80, "zombiePass" => 98 )
),

98 => array(
"name" => "playerEnd",
"description" => '',
"type" => "game",
"action" => "stPlayerEnd",
"updateGameProgression" => true,
"transitions" => array( "playerStart" => 3, "gameEnd" => 99 )
),

(My function
stPlayerEnd
simply changes the active player and goes back to state #3, or ends the game on win condition.)