BGA Studio: Online Board Game development platform
Getting started
4 slideshare presentations to get ready to use BGA Studio in 30 minutes:


Reference Documentation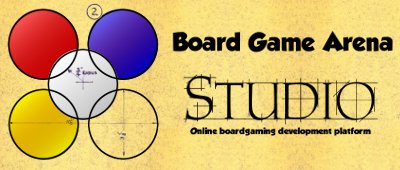 Note: Please DO NOT translate Studio Documentation, so that there can be one place where you can find the latest information available.
Discover BGA Studio in 5 presentations
Why, how, what... to start discovering BGA Studio, we prepared 5 "powerpoint" presentations for you:
Great, I'm in! ... How should I start?
If you didn't already, check the presentations at the top of this page to get the basics.
Then, you should checkout the First steps with BGA Studio to make sure that runs fine.
After that, we strongly advise you to take one of these game creation tutorials:
Then start editing files and see what happens! ;)
If you have any questions, please check out the Studio FAQ first, then if you didn't find the answer you were looking for, please post your question on the development forum.
BGA Studio documentation
BGA Studio Framework reference
This part of the documentation focuses on the development framework itself: functions and methods available to build your game.
Game logic (Server side)
Game interface (Client side)
Other components
BGA Studio game components reference
Game components are useful tools you can use in your game adaptations.
BGA Studio user guide
This part of the documentation is a user guide for the BGA Studio online development environment.
Join BGA Studio developer team
To start developing on BGA Studio and get access to development environment, you need to create an account below.

Personal infos provided in this form is NOT shown to anyone but BGA Studio admin, and is NOT used for any other purpose that BGA Studio organization.
I have error in studio attempting to start the turn based game

You already have 3 tables with this game, waiting to start. You must make these tables start before joining new ones, or choose another game. (You can Play in real time instead.)

However I don't have 3 tables running, I only have one game in progress. Not sure how to kill these and why I cannot start more then 3 games turn based
I'm looking for testers to play through and give feedback on
Coup: City State
, a quick bluffing game.
More info about this game:
Hi, are there API that I can use to create tables or tournaments?