BGA Studio: Online Board Game development platform
Getting started
4 slideshare presentations to get ready to use BGA Studio in 30 minutes:


Reference Documentation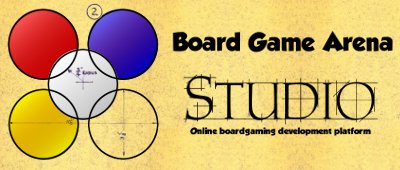 Note: Please DO NOT translate Studio Documentation, so that there can be one place where you can find the latest information available.
Discover BGA Studio in 5 presentations
Why, how, what... to start discovering BGA Studio, we prepared 5 "powerpoint" presentations for you:
Great, I'm in! ... How should I start?
If you didn't already, check the presentations at the top of this page to get the basics.
Then, you should checkout the First steps with BGA Studio to make sure that runs fine.
After that, we advise you to take a peek at one or both of these two game creation tutorials:
Then start editing files and see what happens! ;)
If you have any questions, please check out the Studio FAQ first, then if you didn't find the answer you were looking for, please post your question on the development forum.
BGA Studio documentation
BGA Studio Framework reference
This part of the documentation focuses on the development framework itself: functions and methods available to build your game.
Game logic
Game interface
Other components
BGA Studio game components reference
Game components are useful tools you can use in your game adaptations.
BGA Studio user guide
This part of the documentation is a user guide for the BGA Studio online development environment.
Join BGA Studio developer team
To start developing on BGA Studio and get access to development environment, you need to create an account below.

Personal infos provided in this form is NOT shown to anyone but BGA Studio admin, and is NOT used for any other purpose that BGA Studio organization.
I am new to this but not at all new to programming. I have struggled to take the tutorials and turn them into something else. I would like to see if there is someone or a group building a game that I may be able to jump in and help. I think this would help them to have more hands but it would also help me to become more acquainted with the framework and better understand the system so i can build my own in the future. Let me know if you have any interest in this.

Thanks,
Jason
Hi.
I dont know if i am posting this in the right section, but... Could the screen for Love Letter be changed?
Look my example down. I have a 1366x768 monitor. The screen is a little bit down already (as you can see by the scroll bar in the right), hiding my name/points and the second player's name in the right. The "updating game situation" bar on top hides the up player's name. And I don't have any previous card showing below my card, but it would be partially hidden too.
If I set the browser to full screen, I can see the whole board, but my name/points in the right would still be hidden. Also if I set the browser for 90%.
My suggestions are:
1) That space between the center cards and the up player cards could be dminished
2) The 'previous cards' coins could be changed from below to the side of the player's cards (there are too much room in the sides)
3) The phrases "last played" and "deck" above the center cards could be replaced to the sides.
It could be something like this (dont mind my poor photoshop skills):
Lets say my project called 'tictactoe' but I want to be displayed as 'Tic Tac Toe' (with spaces).
Gameinfos does not seem to have anything that resembles the name of the game. Any other hidden places?
Hi,
Sometimes when I get connected I reach the welcome page without any visible menus at :
http://fr.boardgamearena.com/#!welcome
I then have to clic several times onto different links to have the chance to see the menus appear.
Even clicking on the big splash blue-purple-sheep-cloud-shaped Board Game Arena logo does not give me menus.
Pity
Cheers
When trying to join as a game creator, I fill in the form and then I'm rejected with a error code in red.

How can I create this account?

Thank you.