Welcome to Board Game Arena's online development platform!
Getting started
4 slideshare presentations to get ready to use BGA Studio in 30 minutes:


Reference Documentation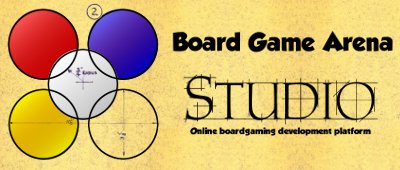 Note: Please DO NOT translate Studio Documentation, so that there can be one place where you can find the latest information available.
Discover BGA Studio in 5 presentations
Why, how, what... to start discovering BGA Studio, we prepared 5 "powerpoint" presentations for you:
Great, I'm in! ... How should I start?
If you didn't already, check the presentations at the top of this page to get the basics.
Then, you should checkout the First steps with BGA Studio to make sure that runs fine.
After that, we strongly advise you to take one of these game creation tutorials:
Then start editing files and see what happens! ;)
Once you done with tutorials, you can start a real game (or join existing project)
If you have any questions, please check out the Studio FAQ first, then if you didn't find the answer you were looking for, please post your question on the development forum.
BGA Studio documentation
BGA Studio Framework reference
This part of the documentation focuses on the development framework itself: functions and methods available to build your game.
Game logic (Server side)
Game interface (Client side)
Other components
BGA Studio game components reference
Game components are useful tools you can use in your game adaptations.
Undocumented component (if somebody knows please help with docs)
BGA Studio user guide
This part of the documentation is a user guide for the BGA Studio online development environment.
Join the BGA Studio developers team
To start developing on BGA Studio and get access to development environment, you need to create an account below.

Personal infos provided in this form is NOT shown to anyone but BGA Studio admin, and is NOT used for any other purpose that BGA Studio organization.
Below is a copy of the message sent today to all developers registered in the studio, for reference in case some e-boxes can't be reached!
--------------------------
Dear BGA studio developers,
Did you hear about "BGA sandbox"? We discussed this wonderful tool on the BGA forums a long time ago. Then stuff happened... But we made some progress, and now it's available on the studio!
So what is it? Sandbox is a graphical tool to create your game interface by selecting your material from a library and setting it up on a virtual table. It's a kind of "Powerpoint for Board Games". Then once the interface is created, it is possible to play with it directly (in that case, players have to enforce the rules themselves) or to implement the rules (through a simple scripting language).
In games already published on Board Game Arena, "Tiki" is a game created with Sandbox and fully scripted. "Go" and "Nine men's morris" were originally published as Sandbox games without rules implementation, then replaced by other versions developped on the studio with full rules.
We realized with this experience that players are not really interested in playing pure Sandbox games (without rules enforcement). Very few games of "Go" and "Nine men's morris" were played before the rules were implemented.
So we decided to take an intermediary step before opening BGA sandbox to everyone: giving it first to you studio developers!
The goals are:
1. to get feedback and polish the editor (please post suggestions and bugs here:
http://en.studio.boardgamearena.com/#!bugs
)
2. to create fully scripted games and publish them! (please note that BGA sandbox is better suited for games with a simple interface such as abstracts; we advise you to start simple!)
An the cherry on top is that... BGA sandbox is itself a game available on the studio! Which means that we can give access to the developers who want to help improve it! (contact us if you are interested)
The home page of the studio has been updated to reflect this new possibility: you can now use the classic Studio or the (new and experimental) Sandbox.
We hope that you'll continue to have fun building games for the community to enjoy!
Cheers and dougnuts,
The admins.
I would like to release update of the game with two new global variables (they are accessed during the game) and updated database schema. I have put some code for backward compatibility and tested it in studio where it works perfectly. But im not sure if it will work in real.
In case of new global variables in studio, even if they were not initialized, they worked. I noticed the proper column in table "global" occured, just after using
even reading did not caused eny error.
For old games without new database schema, I used checks like this:
Code: Select all
$sql = "SHOW COLUMNS FROM `player` LIKE 'end_vote_send' ";
if ( !is_null(self::getUniqueValueFromDB( $sql)) ) ...
Will the behaviour will be the same in real?
Thanks