Welcome to Board Game Arena's online development platform!
Getting started
4 slideshare presentations to get ready to use BGA Studio in 30 minutes:


Reference Documentation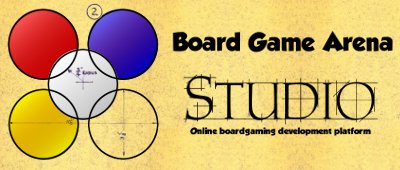 Note: Please DO NOT translate Studio Documentation, so that there can be one place where you can find the latest information available.
Discover BGA Studio in 5 presentations
Why, how, what... to start discovering BGA Studio, we prepared 5 "powerpoint" presentations for you:
Great, I'm in! ... How should I start?
If you didn't already, check the presentations at the top of this page to get the basics.
Then, you should checkout the First steps with BGA Studio to make sure that runs fine.
After that, we strongly advise you to take one of these game creation tutorials:
Then start editing files and see what happens! ;)
Once you done with tutorials, you can start a real game (or join existing project)
If you have any questions, please check out the Studio FAQ first, then if you didn't find the answer you were looking for, please post your question on the development forum.
BGA Studio documentation
BGA Studio Framework reference
This part of the documentation focuses on the development framework itself: functions and methods available to build your game.
Game logic (Server side)
Game interface (Client side)
Other components
BGA Studio game components reference
Game components are useful tools you can use in your game adaptations.
Undocumented component (if somebody knows please help with docs)
BGA Studio user guide
This part of the documentation is a user guide for the BGA Studio online development environment.
Join the BGA Studio developers team
To start developing on BGA Studio and get access to development environment, you need to create an account below.

Personal infos provided in this form is NOT shown to anyone but BGA Studio admin, and is NOT used for any other purpose that BGA Studio organization.
Hi,

Is there any place where people can check status on license negocatiation for games ?

I saw anybody planning to code a game can ask you about license for specific games, but I was thinking it could be cool to have something like a big sortable table with columns like games, developer, licence status (could be "license obtained", "negociation ongoing" or "license refused"), is the game on BGA, people currently developing it.

Maybe you already have this kind of table privatly and considered it as confidential, then it close the subject.
Else I think it could avoid you a lot of mail from people asking about license.
And in case you want to start to develop a game:
* you can easily see if someone is already on it, then pm it to propose your help
* if you don't see the game in the list, you can check license status from other game from that publisher, if there is a lot of deny or accept, I guess there is high chance the answer for your game will be the same
Hi,

I would like to know if it is possible to have on BGA full coop games (where all people are trying to win together vs game mechanic) ?

I only checked the few presentation slides from the dev page, and from what I saw I think coding the game itself should be possible.
However I think all games currently have an ELO & ranking system. And I don't know how you could implement this kind of stuff for a coop game as you can't compare to other people in your game.
Some games give you a score that you could use, but not all. You could also try to use something depending on winrate and number of game played.
Or would it be possible to just ignore ranking for those games ?