Welcome to Board Game Arena's online development platform!
Getting started
4 slideshare presentations to get ready to use BGA Studio in 30 minutes:


Reference Documentation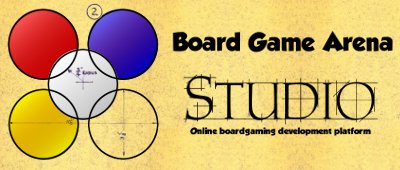 Note: Please DO NOT translate Studio Documentation, so that there can be one place where you can find the latest information available.
Discover BGA Studio in 5 presentations
Why, how, what... to start discovering BGA Studio, we prepared 5 "powerpoint" presentations for you:
Great, I'm in! ... How should I start?
If you didn't already, check the presentations at the top of this page to get the basics.
Then, you should checkout the First steps with BGA Studio to make sure that runs fine.
After that, we strongly advise you to take one of these game creation tutorials:
Then start editing files and see what happens! ;)
Once you're done with tutorials, you can start a real game (or join existing project)
If you have any questions, please check out the Studio FAQ first, then if you didn't find the answer you were looking for, please post your question on the development forum.
BGA Studio documentation
BGA Studio Framework reference
This part of the documentation focuses on the development framework itself: functions and methods available to build your game.
Game logic (Server side)
Game interface (Client side)
Other components
BGA Studio game components reference
Game components are useful tools you can use in your game adaptations.
Undocumented component (if somebody knows please help with docs)
BGA Studio user guide
This part of the documentation is a user guide for the BGA Studio online development environment.
Join the BGA Studio developers team
To start developing on BGA Studio and get access to development environment, you need to create an account below.

Personal infos provided in this form is NOT shown to anyone but BGA Studio admin, and is NOT used for any other purpose that BGA Studio organization.
I'm working on a game where each player has their own board. Does anyone have an example handy of how to set up the view so that each player sees their own board at the top? Games like Potion Explosion and 7 Wonders do this.
I'm not sure if there's a way to do this in view.php, or if I should just use javascript to bring the appropriate board into place after the game loads. Doing it on the PHP side seems preferable. Right now my approach is to pull out the current player id from the player list array, set up their board, then loop through the remaining players after the current player is set up.
I've put together a crude illustration of the layout I'm going for, where the top div contains the player area consisting of their personal board (blue rectangle) and shared board (purple rectangle, same for everyone), and the bottom div has smaller versions of each of the opponents' player boards.

I have art files for Eminent Domain Origins, a reboot of one of TMG's launch titles Terra Prime in the Eminent Domain universe, complete and ready to go, but it has not been sent to the printer yet.
I would love to see it implemented on BGA! Is anyone interested in taking that on?
Terra Prime on BGG:
https://www.boardgamegeek.com/boardgame ... erra-prime
Also, I have an artist partially done with files for an Eminent Domain dice game (Eminent Domain: Chaos Theory). I would be happy to see that one debut on BGA as well!
Let me know if you're interested in either of these.
Thank you,
Seth Jaffee
For the last few weeks I've been working on a game; just now I went to ftp my latest changes and saw that the directory is gone from my directory.
It's gone from my Control Panel -> Manage Games as well; but now shows in my "Favorite games" with an "Alpha" over the (nonexistent) image?

Any suggestions on what's going on?