Welcome to Board Game Arena's online development platform!
Getting started
4 slideshare presentations to get ready to use BGA Studio in 30 minutes:


Reference Documentation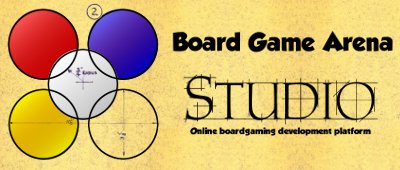 Note: Please DO NOT translate Studio Documentation, so that there can be one place where you can find the latest information available.
Discover BGA Studio in 5 presentations
Why, how, what... to start discovering BGA Studio, we prepared 5 "powerpoint" presentations for you:
Great, I'm in! ... How should I start?
If you didn't already, check the presentations at the top of this page to get the basics.
Then, you should checkout the First steps with BGA Studio to make sure that runs fine.
After that, we strongly advise you to take one of these game creation tutorials:
Then start editing files and see what happens! ;)
Once you done with tutorials, you can start a real game (or join existing project)
If you have any questions, please check out the Studio FAQ first, then if you didn't find the answer you were looking for, please post your question on the development forum.
BGA Studio documentation
BGA Studio Framework reference
This part of the documentation focuses on the development framework itself: functions and methods available to build your game.
Game logic (Server side)
Game interface (Client side)
Other components
BGA Studio game components reference
Game components are useful tools you can use in your game adaptations.
Undocumented component (if somebody knows please help with docs)
BGA Studio user guide
This part of the documentation is a user guide for the BGA Studio online development environment.
Join the BGA Studio developers team
To start developing on BGA Studio and get access to development environment, you need to create an account below.

Personal infos provided in this form is NOT shown to anyone but BGA Studio admin, and is NOT used for any other purpose that BGA Studio organization.
I have developed a new game that is currently unpublished but will be going out to publishers to give them a chance to pick it up. Everyone I have pitched it to agrees it lends itself well to a digital adaptation.
Fast description: Battleship with words. Will appeal to players who like scrabble, sudoku, mastermind, and crossword puzzles.
Type of game: Word, spelling, strategy, deduction, logic
Player Count: 2 players with some experimental multiplayer versions possible
From a developer standpoint getting a basic version up and running should be very easy compared to many games.
Each player makes a 5x5 grid with 7 specific letters distributed in it.
On a turn, each player spells a word horizontally or vertically in a larger grid centered of the 5x5 region.
Then the program checks the accuracy against the answer grids and the result goes into a location players can see and review in future turns. Optionally and ideally a personal notes logic grid within the app would be nice.
The toughest part of the development might be finding sourcing for a database of words for the program to confirm a word is a valid spelling and type of word that is allowed. To start with, the game could lack spelling enforcement but it would be an important feature for competitive play to make sure people are not just using letter soup to guess well.
Note: The following rules and video are describing the full logical game. I have recently finished testing and want to include a simple version where players gain more information during grading to lower the threshold of puzzle difficulty. This will make it accessible to almost any player (but still make them think) and the variant for the original rules will be available for players who want the experience of a crossword puzzle and a sudoku puzzle mixed into a single strategic game against another player.
under 5 minute overview of the game
Rules file
Please contact me if you are interested in talking more about this project. I design games so that other players can enjoy the same things I do and this has been a big hit with puzzle players who I have introduced it to. BGA is the perfect platform to let players enjoy and to have a working digital "prototype" to show publishers instead of continuing to play on google spreadsheets. I would be happy to play the game with you before you make any decisions so you can find out if it is a product you want your name associated with.
Hi (fellow) developers,
just a quick thought: it would be nice to find more of the BGA game implementations publicly on one of the code hosting platforms. Even nicer if it would be actively developed there — vs. just being a one-commit dump of code every once in a while. No offense, but I wonder why not more people do that. Or I just cannot find the projects. I know there are some on Github.
I host my (one and only so far, I have to admit) implementation of P.I. on Gitlab and mentioned this in the overview table in BGA Studio for easy discovery by other developers:
https://gitlab.com/fa81/bga-pi
(plus a mirror on Github:
https://github.com/hellp/bga-pi
)
While I currently have no time to work on a game myself, sometimes I'm curious to check out other games, be it just for fun or for looking into fixing a bug I find when playing.
I have never been able to connect to the SFTP server with the password I received in the welcome email. Whom should I contact for this problem?