Welcome to Board Game Arena's online development platform!
Getting started
4 slideshare presentations to get ready to use BGA Studio in 30 minutes:


Reference Documentation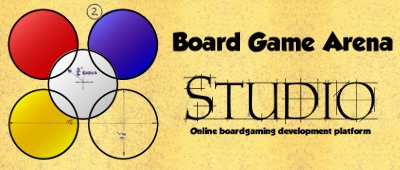 Note: Please DO NOT translate Studio Documentation, so that there can be one place where you can find the latest information available.
What is Board Game Arena Studio?
Board Game Arena Studio is a platform to build online board game adaptations using the Board Game Arena platform.
It is open to any gamer with software development skills :)
BGA Studio website: https://studio.boardgamearena.com
Original announcement on BGA forum: https://forum.boardgamearena.com/viewtopic.php?f=10&t=1973
Discover BGA Studio in 5 presentations
Why, how, what... to start discovering BGA Studio, we prepared 5 "powerpoint" presentations for you:
How to join the BGA developer team?
Please see this page: How to join BGA developer team?
Great, I'm in! ... How should I start?
If you didn't already, check the presentations at the top of this page to get the basics.
Then, you should checkout the First steps with BGA Studio to make sure that runs fine.
After that, we strongly advise you to take one of these game creation tutorials:
Then start editing files and see what happens! ;)
Once you're done with tutorials, you can start a real game (or join existing project)
If you have any questions, please check out the Studio FAQ or Contact BGA Studio.

To search wiki pages on studio enter this text in search bar:
 "Category:Studio" white rabbit 

That is if you want to search for white rabbit
BGA Studio documentation
BGA Studio Framework reference
This part of the documentation focuses on the development framework itself: functions and methods available to build your game.
Game logic (Server side)
Game interface (Client side)
Other components
BGA Studio game components reference
Game components are useful tools you can use in your game adaptations.
JS:
PHP:
Deck: a PHP component to manage cards (deck, hands, picking cards, moving cards, shuffle deck, ...).
Reference for classes in game class hierarchy
Table: a PHP class that you inherit from for the game php
BGA Studio user guide
This part of the documentation is a user guide for the BGA Studio online development environment.
Lifecycle

Tools and Advice
Sharing
Software Versions
Versions currently used by BGA framework:
PHP Extensions Used
The following PHP extensions are - as of May 8th, 2022 - in use in BGA Studio and available:
date
libxml
openssl
pcre
zlib
filter
hash
Reflection
SPL
session
standard
sodium
apache2handler
mysqlnd
PDO
xml
apcu
bz2
calendar
ctype
curl
dom
mbstring
FFI
fileinfo
ftp
gd
gettext
gmp
iconv
igbinary
json
exif
msgpack
mysqli
pdo_mysql
apc
posix
readline
shmop
SimpleXML
sockets
sysvmsg
sysvsem
sysvshm
tokenizer
v8js
xmlreader
xmlwriter
xsl
zip
Phar
memcached
Zend OPcache
Other resources
Bug tracking system FOR STUDIO issues and APIs
DISCORD chat server/room invite link https://discord.gg/YxEUacY if it does not work check this topic https://forum.boardgamearena.com/viewtopic.php?f=12&t=17403&hilit=discord
Developer BLOGS https://bga-devs.github.io/blog/
Join the BGA Studio developers team
To start developing on BGA Studio and get access to development environment, you need to create an account below.

Personal infos provided in this form is NOT shown to anyone but BGA Studio admin, and is NOT used for any other purpose that BGA Studio organization.
BGA's system allows for collecting key-value statistics only on a game basis (for the whole game, or for individual players in the whole game).

I'm implementing a trick-taking game that involves a series of matches that are independent from each other.
Some of the things players (and the designer) would like to know are specific to the match, like how the strength of the hand you're dealt affects your chances to win the match. It's not something that's very interesting when aggregated for the whole game, which is what BGA supports.

1) Are there plans on introducing round-based statistics to BGA?
2) If I save it in an extra table, is it possible to extract game history in bulk for analysis?
3) Do you know of any other games that implemented such statistics and displayed them to players?
In my game, I use custom classes for the log messages, including using data URI'd SVG images instead of separate image files.

This works fine, but I noticed that the game's CSS file isn't in the "View game replay" page, so the log messages don't appear correctly.

Is this something I should avoid? Or are these logs less important?

Looking at how other games do it, and I think the logs are "unreadable" as well, but in other ways. For example Wingspan and Gaia Project's logs have marked up keywords, which I think are substituted in the client-side. Should I use this technique instead?
When I click the "Check project" button, I get this error:
This game cannot be played with 2 players (you invited 1 friend(s) to play with you). The maximum is 1 players
This is a 2-player game only. It otherwise works fine.
The project is
vidrasso
.
Any idea what's wrong?