Welcome to Board Game Arena's online development platform!
Getting started
4 slideshare presentations to get ready to use BGA Studio in 30 minutes:


Reference Documentation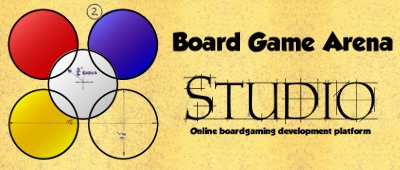 Note: Please DO NOT translate Studio Documentation, so that there can be one place where you can find the latest information available.
Discover BGA Studio in 5 presentations
Why, how, what... to start discovering BGA Studio, we prepared 5 "powerpoint" presentations for you:
Great, I'm in! ... How should I start?
If you didn't already, check the presentations at the top of this page to get the basics.
Then, you should checkout the First steps with BGA Studio to make sure that runs fine.
After that, we strongly advise you to take one of these game creation tutorials:
Then start editing files and see what happens! ;)
Once you're done with tutorials, you can start a real game (or join existing project)
If you have any questions, please check out the Studio FAQ first, then if you didn't find the answer you were looking for, please post your question on the development forum.
BGA Studio documentation
BGA Studio Framework reference
This part of the documentation focuses on the development framework itself: functions and methods available to build your game.
Game logic (Server side)
Game interface (Client side)
Other components
BGA Studio game components reference
Game components are useful tools you can use in your game adaptations.
Undocumented component (if somebody knows please help with docs)
Reference for classes in game class hierarchy
BGA Studio user guide
This part of the documentation is a user guide for the BGA Studio online development environment.
Lifecycle

Tools and Advice
Sharing
Join the BGA Studio developers team
To start developing on BGA Studio and get access to development environment, you need to create an account below.

Personal infos provided in this form is NOT shown to anyone but BGA Studio admin, and is NOT used for any other purpose that BGA Studio organization.
My game,
Sparts
, just went live. For reasons I don't understand, the game forces Arena matches to use the 400-point game length. (There are 3 options for game length: 200, 400, and 800... 200 is the default, and is by far the most popular in regular matches.)
I don't know how to change the Arena default to 200. Clicking "Change" on the 400 shows the message "Sorry, all games played in Arena mode must be played with this option", and it can't be changed. How can I set this, or allow players to change it themselves? Thanks.
Hi everyone,

I have Champions of Midgard in alpha at the moment, looking for a developer who is willing to help me out with a few of the major open bugs at the moment. I am in lack of time and could use someone with a fresh pair of eyes to fix a few bugs, mainly with the combat phase of the game.

Any help is greatly appreciated! This game is almost ready for release, so it would be a shame not to get it just perfect!

Thanks in advance!
Any Martin Wallace fans here?
We're looking for someone to develop the new version of
Tinners' Trail
for Board Game Arena.
Tinners' Trail was an award winning game in its day and we've now redeveloped and improved for the modern market. We recently launched it on Kickstarter with improved gameplay, a solo mode, and 2 new expansions, all of which we want to include in the BGA adaptation (expansions to be premium, the rest to be free for all)
We're also looking a developer for
Eternal Palace
, which is a dice placement Euro game from designer Steven Aramini about rebuilding the Emperor's palace and painting a painting to commemorate the occasion. It's a great game with some very cool mechanisms and a beautiful table presence and artwork (if we do say so ourselves!)
Both of these games are due to be released to retail in about September and we wanted to be able to release the BGA adaptation of both shortly after. We'd like to compensate any developer who can do the project with a deluxe Kickstarter copy of the game they develop for BGA.
We're also still looking for developers for our other games, all of which we want to come to BGA.
You can see the full list here
Please let me know if you're interested and post any comments or questions below!