Welcome to Board Game Arena's online development platform!
Getting started
4 slideshare presentations to get ready to use BGA Studio in 30 minutes:


Reference Documentation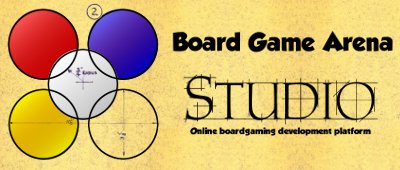 Note: Please DO NOT translate Studio Documentation, so that there can be one place where you can find the latest information available.
Discover BGA Studio in 5 presentations
Why, how, what... to start discovering BGA Studio, we prepared 5 "powerpoint" presentations for you:
Great, I'm in! ... How should I start?
If you didn't already, check the presentations at the top of this page to get the basics.
Then, you should checkout the First steps with BGA Studio to make sure that runs fine.
After that, we strongly advise you to take one of these game creation tutorials:
Then start editing files and see what happens! ;)
Once you done with tutorials, you can start a real game (or join existing project)
If you have any questions, please check out the Studio FAQ first, then if you didn't find the answer you were looking for, please post your question on the development forum.
BGA Studio documentation
BGA Studio Framework reference
This part of the documentation focuses on the development framework itself: functions and methods available to build your game.
Game logic (Server side)
Game interface (Client side)
Other components
BGA Studio game components reference
Game components are useful tools you can use in your game adaptations.
Undocumented component (if somebody knows please help with docs)
BGA Studio user guide
This part of the documentation is a user guide for the BGA Studio online development environment.
Join the BGA Studio developers team
To start developing on BGA Studio and get access to development environment, you need to create an account below.

Personal infos provided in this form is NOT shown to anyone but BGA Studio admin, and is NOT used for any other purpose that BGA Studio organization.
Hi

I'm seeking for an advice as a non-programmer who is interested in learning programming. I have only very basic idea of what is coding. After I have heard about AlphaGo Zero, one thing pops up in my mind.

OK, now human's winning rate against AI is close to 0% in Go, but how about other games? If Alpha Zero learns how to play Lost Cities, is it going to win all the time? Unlike Go, most board games have some random aspect so I believe even Alpha Zero cannot win Lost cities all the time. I guess the winning rate might be 80% or something? What I want to study - perhaps life long dream - is to estimate the winning rate of many board games against AI. Go is 0% and the other extreme would be flip a coin game which is purely random so that AI's winning rate cannot be more than 50%. I believe AI's winning rate against human for most of the board games are in between 50% - 100% and it partially depends on how much random aspects are in each game.

To pursue my goal, I need to learn how to simulate board game, create decent AI and calculate it's winning rate against human. Is there anyone who can give me an advice where I should start? Is there any recommended programming language for this purpose? Can I use BGA studio for this purpose?

Thanks in advance.
Hi there,

I live in China mainland and I cannot access the 'Discover BGA Studio in 5 presentations' at 'BGA Studio doc', because they are on the web site slideshare.net, which is blocked by the Great Firewall of China.

I wonder if there is any other ways to reach these presentations, or if it is possible for someone to upload these presentations to this forum via attachment, which I have access to, or send these files to me via email, or via sftp, etc.

I will share these files to Baidu Netdick which is available and reliable in China so that future Chinese developer can get them easily.

Thank you

Cheers,
Leng Nanlyu
hello, i'm been looking for what is wrong for several days...
I can't find it and I always get a
Javascript error:
During notification placeDarkTile
Cannot read property 'ownerDocument' of null
TypeError: Cannot read property 'ownerDocument' of null
at Object.place
...
at Object.placeDarkTile
...
at Object.notif_placeDarkTile
...

TPL :
var jstpl_darktile = '<div id="darknesstile_${id}" class="darktile darktile_${type}"></div>';

CSS :
.darktile {
background-image: url('img/darkness.jpg');
background-size: 1000% 600%;
width: 75px;
position: absolute;
}

.darktile_1 { background-position: -0% -0%; height: 75px; }
.darktile_2 { background-position: -100% -0%; height: 150px; }
...
.darktile_30 { background-position: -200% -0%; height: 225px;}
PHP
function illuminate( $illuminator_id, $x, $y, $dir )
{
$darktile_type = bga_rand(1,30);
self::notifyAllPlayers( 'placeDarkTile', clienttranslate('${player_name}`s ${illuminator_name} illuminates ${x} - ${y} with darktile ${darktile_type}'), array(
'i18n' => array( 'illuminator_name' ),
'player_name' => self::getActivePlayerName(),
'illuminator_name' => $this->token_types[ $illuminator['type'] ]['name'],
'darktile_type' => $darktile_type,
'x' => $x,
'y' => $y
) );
}
JS
notif_placeDarkTile: function( notif )
{
this.placeDarkTile( notif.args.x, notif.args.y, notif.args.darktile_type );
},
placeDarkTile: function( x, y, darktile_type )
{
dojo.place( this.format_block( 'jstpl_darktile', {
id :darktile_type,
type: darktile_type
} ), 'darktiles' );

this.placeOnObject( 'darknesstile_'+id, 'square_'+x+'_'+y );
},