Welcome to Board Game Arena's online development platform!
Getting started
4 slideshare presentations to get ready to use BGA Studio in 30 minutes:


Reference Documentation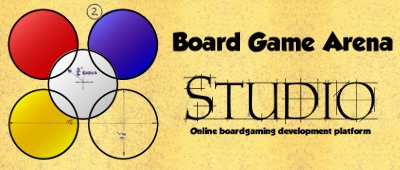 Note: Please DO NOT translate Studio Documentation, so that there can be one place where you can find the latest information available.
Discover BGA Studio in 5 presentations
Why, how, what... to start discovering BGA Studio, we prepared 5 "powerpoint" presentations for you:
Great, I'm in! ... How should I start?
If you didn't already, check the presentations at the top of this page to get the basics.
Then, you should checkout the First steps with BGA Studio to make sure that runs fine.
After that, we strongly advise you to take one of these game creation tutorials:
Then start editing files and see what happens! ;)
Once you're done with tutorials, you can start a real game (or join existing project)
If you have any questions, please check out the Studio FAQ first, then if you didn't find the answer you were looking for, please post your question on the development forum.
BGA Studio documentation
BGA Studio Framework reference
This part of the documentation focuses on the development framework itself: functions and methods available to build your game.
Game logic (Server side)
Game interface (Client side)
Other components
BGA Studio game components reference
Game components are useful tools you can use in your game adaptations.
Undocumented component (if somebody knows please help with docs)
BGA Studio user guide
This part of the documentation is a user guide for the BGA Studio online development environment.
Join the BGA Studio developers team
To start developing on BGA Studio and get access to development environment, you need to create an account below.

Personal infos provided in this form is NOT shown to anyone but BGA Studio admin, and is NOT used for any other purpose that BGA Studio organization.
Hi all, Red Genie Games submitted The Brigade to BGA a while ago, but it hasn't progressed down the line much
I was advised I could come here and see if anyone wanted to develop it on BGA?
The Brigade is an award winning board game, from Australian designers, about rival firefighting wardens, attempting to put out a town wide inferno emanating from a pyromancer university.
The box cover says it all -
https://boardgamegeek.com/boardgame/213503/brigade
I got a (good) suggestion to use "tmdisplay" to add information about selected game options when viewing the game in the lobby.

I added this, but I don't see it when viewing the game in the lobby on the studio.

I definitely clicked the "Reload game options configuration" button in the control panel, so that's not the problem.

Is there a delay before the studio picks this up? Does the game need to be deployed first for this to show up in the lobby? Or might something else be going on?
Hi,
New developer here, so I may be missing something obvious.
In the gamedatas that's sent to the Javascript code, the playerorder property is an array that's supposed to include the player IDs, with the first code belonging to the logged-in player.
It seems like the first element is always a string, and the other elements are numbers.
For example:
Is there a reason for this type mixup? Shouldn't they all be strings?