Welcome to Board Game Arena's online development platform!
Getting started
4 slideshare presentations to get ready to use BGA Studio in 30 minutes:


Reference Documentation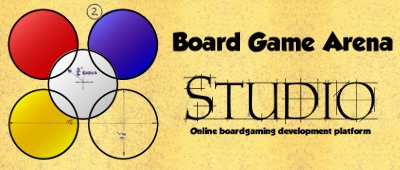 Note: Please DO NOT translate Studio Documentation, so that there can be one place where you can find the latest information available.
Discover BGA Studio in 5 presentations
Why, how, what... to start discovering BGA Studio, we prepared 5 "powerpoint" presentations for you:
Great, I'm in! ... How should I start?
If you didn't already, check the presentations at the top of this page to get the basics.
Then, you should checkout the First steps with BGA Studio to make sure that runs fine.
After that, we strongly advise you to take one of these game creation tutorials:
Then start editing files and see what happens! ;)
Once you're done with tutorials, you can start a real game (or join existing project)
If you have any questions, please check out the Studio FAQ first, then if you didn't find the answer you were looking for, please post your question on the development forum.
BGA Studio documentation
BGA Studio Framework reference
This part of the documentation focuses on the development framework itself: functions and methods available to build your game.
Game logic (Server side)
Game interface (Client side)
Other components
BGA Studio game components reference
Game components are useful tools you can use in your game adaptations.
Undocumented component (if somebody knows please help with docs)
Reference for classes in game class hierarchy
BGA Studio user guide
This part of the documentation is a user guide for the BGA Studio online development environment.
Lifecycle

Tools and Advice
Sharing
Join the BGA Studio developers team
To start developing on BGA Studio and get access to development environment, you need to create an account below.

Personal infos provided in this form is NOT shown to anyone but BGA Studio admin, and is NOT used for any other purpose that BGA Studio organization.
I am a new BGA developer. I am specialized on web applications, so it's not a huge issue for me to get into BGA Studio and create a board game digital implementation. Yet if would be a lot easier if I could look into some other game's code. And I don't mean those 3 default games which come with every account. How can I check the code of any other game I choose? It would greatly increase the speed of development for me personally.
Hey everyone! This is Perrin from Project Dark Water, a Canadian indie-game studio. We're looking for some volunteer developers who may be interested in adapting a big fantasy-style game on BGA.
Our upcoming game,
Veil of Ruin: Progressive Deckbuilding RPG,
is inspired by the likes of Gloomhaven/Slay the Spire/MTG. There are both PVE and PVP game modes. Here is a quick 10min overview video showcasing the basics of our game:
https://youtu.be/b53KiFX7GSQ
The game is in Late Alpha stages of development - key gameplay functionality is implemented and complete, the features are all figured out and the game is playable. We are currently just adding content to the game like more monsters and maps.
The game is pretty big, the demo being larger than most complete games. There has been well over 10,000 hours put in by a team of veteran game designers who have worked on games such as Empire Earth, Company of Heroes, and Dawn of War.
We have already built a community of 400 people who are actively playtesting our game and are eager to see the game available on more platforms. The response so far from the community has been amazing.
One of our designers would be happy to show any devs interested a demo on Tabletop Simulator. Please let me know below and we can arrange this. Feel free to ask any questions you may have about our project. You can also reach us via email:
info@projectdarkwater.com
Thanks for your consideration!

Further links:
Discord Server:
https://discord.gg/wcNd7fBRrR
Website:
https://veilofruin.com
YouTube Channel:
https://youtube.com/channel/UCtFrVzSHP0lY8pRvDCysdxA
Hello Everyone

and thank you for all your responses

I am trying to create Escape the Cursed Temple, a real time game

how would you test the game to see if all players are able to simultaneously play different actions in real time?

Thanks again for any suggestions