Welcome to Board Game Arena's online development platform!
Getting started
4 slideshare presentations to get ready to use BGA Studio in 30 minutes:


Reference Documentation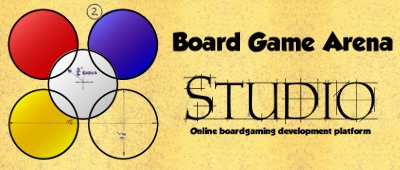 Note: Please DO NOT translate Studio Documentation, so that there can be one place where you can find the latest information available.
Discover BGA Studio in 5 presentations
Why, how, what... to start discovering BGA Studio, we prepared 5 "powerpoint" presentations for you:
Great, I'm in! ... How should I start?
If you didn't already, check the presentations at the top of this page to get the basics.
Then, you should checkout the First steps with BGA Studio to make sure that runs fine.
After that, we strongly advise you to take one of these game creation tutorials:
Then start editing files and see what happens! ;)
Once you're done with tutorials, you can start a real game (or join existing project)
If you have any questions, please check out the Studio FAQ first, then if you didn't find the answer you were looking for, please post your question on the development forum.
BGA Studio documentation
BGA Studio Framework reference
This part of the documentation focuses on the development framework itself: functions and methods available to build your game.
Game logic (Server side)
Game interface (Client side)
Other components
BGA Studio game components reference
Game components are useful tools you can use in your game adaptations.
Undocumented component (if somebody knows please help with docs)
Reference for classes in game class hierarchy
BGA Studio user guide
This part of the documentation is a user guide for the BGA Studio online development environment.
Lifecycle

Tools and Advice
Sharing
Join the BGA Studio developers team
To start developing on BGA Studio and get access to development environment, you need to create an account below.

Personal infos provided in this form is NOT shown to anyone but BGA Studio admin, and is NOT used for any other purpose that BGA Studio organization.
I am not a developer, but would like to put Of Knights and Ninjas on BGA. I heard that there was a sandbox that I could use that would let me start making the game... Do you know if that is a thing yet?

Gisteren kreeg ik,plots een technisch probleem bij orange was er geen whifi verbinding mogelijk tussen 1 u en 1u 30
Tijdens een spel belote ik werdt gestraft hiervoor min 25 pt
Willennjullie dat eens nakijken aub ik had 317 pts en plots maken jullie er 282 van?? Waarom kloppen heel veel van die optellingen niet?
Grtjs pitrak
hey all,
I am currently working on Fluxx, a game with lots of cards that have much text on it (card name, title, subtitle, description that can sometimes be quite long).
Of course this needs to be translatable, so I want to overlay the card images with translated text for all this information (instead of having translations only in card tooltips that are not easy to use on tablets and mobile).
These text blocks all have different font sizes ranging from 18px to 4px depending on the card type, location and type of text.
This is all working and looking perfectly on my computer, iPad and Android mobile phones.
But on iPhone (my daughter's iPhone 8, only test device I have), this text gets scaled up automatically, becoming way too big for the card size.
I have been reading up on this and it seems to be related to some behavior from mobile Safari trying to make website text readable for the user by default.
Tried several workarounds proposed in threads all over the place:
? wrapping the text in <span>, <p> elements because those were mentioned to be excluded from the behavior (but doesn't work)
? using css -webkit-text-size-adjust: 100%; or -webkit-text-size-adjust: none; to prevent iPhone from scaling the text (doesn't seem to make any difference)
But I can't seem to find a correct or recent description of how exactly this font size boost on iPhone is working or how it can be prevented correctly.
By the way, I have actually checked a recent game with translated card text (Abyss) on that iPhone, and noticed that also there the Lord's name text gets scaled a lot bigger than on other devices. But it doesn't hurt so much there because it still fits inside the card.
Does anybody have any experience or more explanation about this?
Or preferably just a very simple known workaround or fix
Thx